feel blissful to be loved by someone =)



so Saturday went back to Jerantut, Kuantan to attend my dad's younger sister's daughter's wedding.oh yeah I should call her [cousin] =S. haha.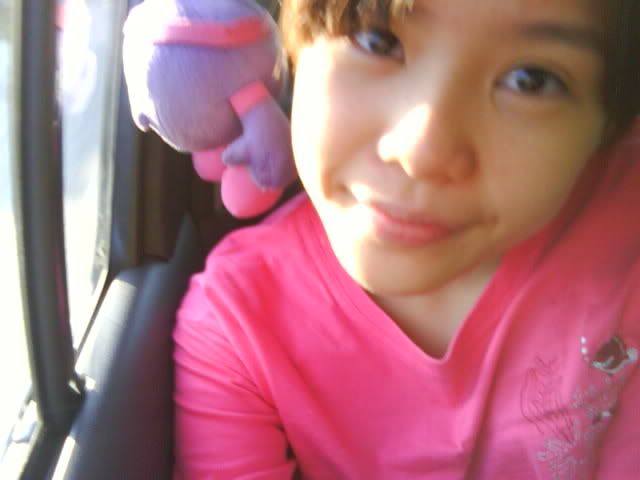 my eldest brother was back from Singapore!=D were going to have breakfast
woke up at around 7am and got ready to have breakfast at Mahkota. then off to Jerantut.
aiks seriously I hate sitting in a car for long because I can't camwhore well when the car is moving. haha. Besides, I couldn't read and sleep well in the car. so the 3hours-journey back to hometown was boring although I was listening to my beloved One FM. lols
cold shot.
around 12pm reached Jerantut and had a break at coffee shop. heh the food in kampung wasn't as delicious and cheap as I expected =x camwhore a little with dad and mom heee
the wind kissed my hair =)
I should be familiar with this place since here is my hometown. almost all the relatives gather together. but somehow, I feel awkward. Yes, its really awkward.
Usually when people meet their cousins or other relatives, they will start talk and talk non-stop. but why my cousins they all didn't even wanna look at me or at least throw a smile to me? argh they were so quiet and only did their own stuff. duh.
mom is sleepy and my teeth! ugly smile grrr
I was only like syok sendiri kept showing my most friendly smile to them but didn't get any response =(.
HEY! AT LEAST SMILE!
=[ I'm not that annoying right? we only meet once during Chinese New Year every year.. grr
oh oh. out of topic already haha. so go on to the wedding. okay its so saddening because I didn't get to take picture with the bride and the bridegroom *sigh* you can't even see how charming my pretty cousin is *sigh again*
while getting ready. haha at least you see her sexy back =s and the messy room.
the lady in purple dress is my aunt =)
We were asked to sign our names on the red paper with marker pen in this picture. they said it's to keep as memory =) I didn't sign because I think I'm too young to sign. so I said I wanna take picture. as an excuse haha.
it's been a long time since the last time I camwhore with my brother. haha. look at his uncle face. he's getting old =P
another shot. ewww the bloody smile hahaha.
I'm from a sampat family so you can't blame that I'm sampat lols. and people always ask why am I so tall what did you eat and do you play basketball blabla. I can tell you its all because of gene. because my brother is 182cm ++ tall. my dad is just a little shorter than him.
so.. get it? xD
Yong Kang aka my brother with his girlfriend which last already at least 5 years I think. woo
before the food, we have plenty of time to take picture. haha so here come some photos.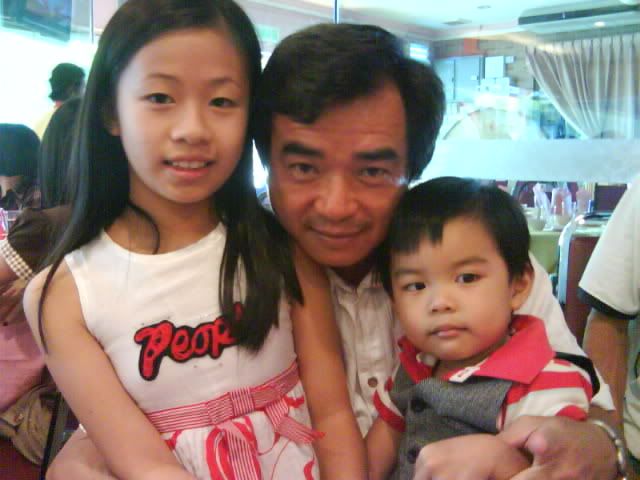 my dad and his grandchildren. yup one is turning into 11 next year and another is 2 years old.
from left the aunt aka Soh Yee Ling ==, my niece aka Sammy, grandmother aka my mom aka Sammy's grandma. I myself also kinda confused when typing this. LOL
argh I make mom looked so fat in this picture. the grandparents with their grandchildren.
so Sammy is my eldest sister's daughter who is now living in Jerantut with her dad. She's having vacation in KL right now. She's forced to become an independent girl... *words stuck here*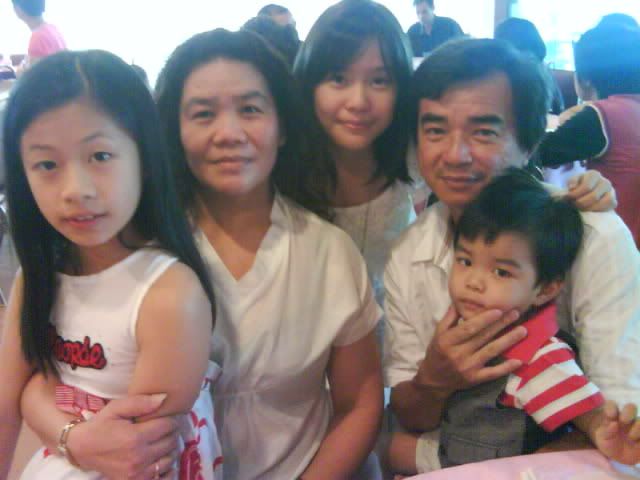 Sammy didn't smile in the last picture. so take 2. still not smiling =( haha the grandpa is forcing his grandson to smile =) argh the little cute boy aka my nephew who is my third sister's son..IM DEEPLY IN LOVE WITH HIM! xD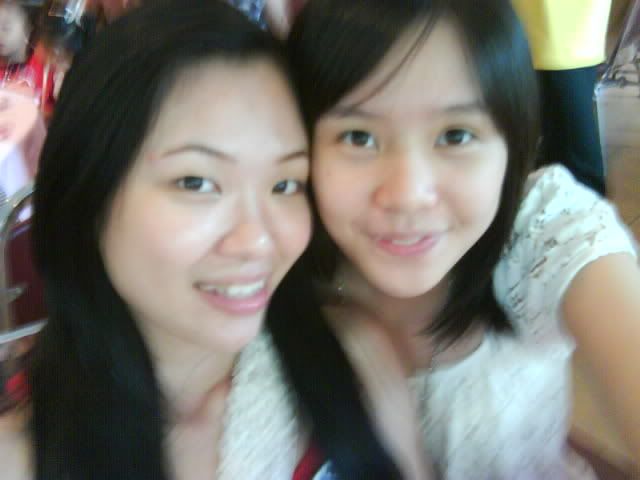 so this is my third sister =) mom always said that the way I laugh is exactly like hers. hahaa SAMPAT PO =X its good.. cheerful all the time hee
woah. long straight hair T_T I WANT IT BADLY!
oh. I didn't mention about the food because the food was suckish =( service bad.food bad.haiyo =O
rock star in the future haha.
after the wedding went to my aunt's house again. dad needed to rest enough before driving back to KL. and so I asked my Form5 cousin for the SPM timetable. heh SPM till 16 of December. hmm she is in science stream and I wonder why biology paper would be her last paper. how about physics eh? LOL why should I be concerned so much ahaha.
last camwhore with sister before going back =)
ps: Cheng Haw or Cheng How there.. if you're reading my blog. I DEMAND you to leave comment in my chatbox and let me know your blog link =P
pss: ewww. I dare not to look at myself in the mirror! lots of pimple on my pale face =((
psss: I don't wanna give you hope because the chances of meeting your wishes are so tiny =X