Dear viewers:
I'm BACK! =D

[Im so outdated I know!=( internet got some problems hmm. so Im gonna upload a lot of pictures in this post!]
Exam's over! but it isn't something really delighting me=(
haih... My form2 school life has officially ended.....
[I wouldn't say I will be missing you this kinda geli things again okay? everything is coming to the end...=( ]
[all the best in your SPM!=)]
_________________________________
too many photos needed to upload. more than 100! =O
31/10/09. Saturday.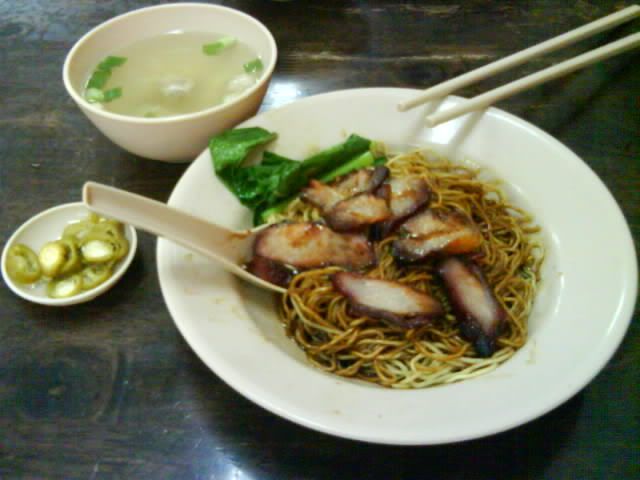 __
went to Mahkota makan Wan Tan Mee that day. hee sedap =)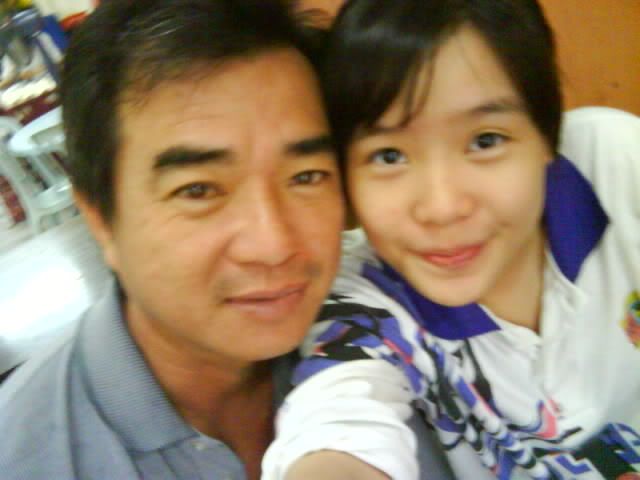 __
and camwhore with daddy haha. dad looked sleepy=/
I think it was Hari Kokurikulum. I wanted to have fun and camwhore with my beloved seniors. so. I went to school although I didn't expect I would receive any sijil or prize. haha.
around 8.30 then reached school. kinda late because most of the students already gathered kat foyer. then searched for Adeline. haha.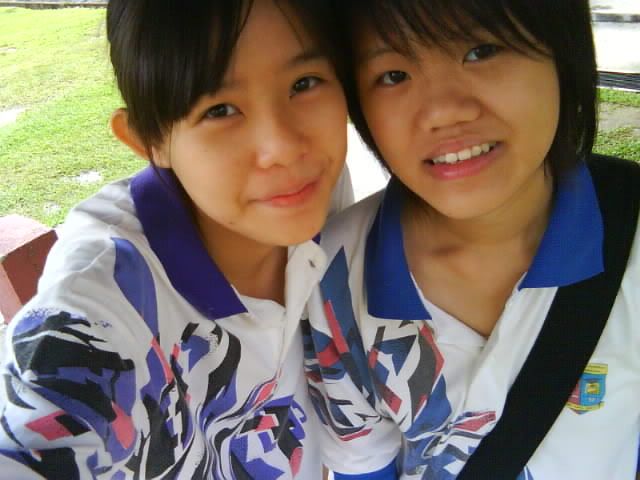 after listening some speeches from dont-know-who for a while. ran away with Adeline and camwhore. haha. then teachers began giving out sijil to pengakap. kadet polis. SPBT blablabla.
hor.then out of sudden. I became wakil rumah ungu to receive sijil from Samsuddin. haha. I think its because Liann was absent that day hmm.
after that was break time. and we camwhore! =DD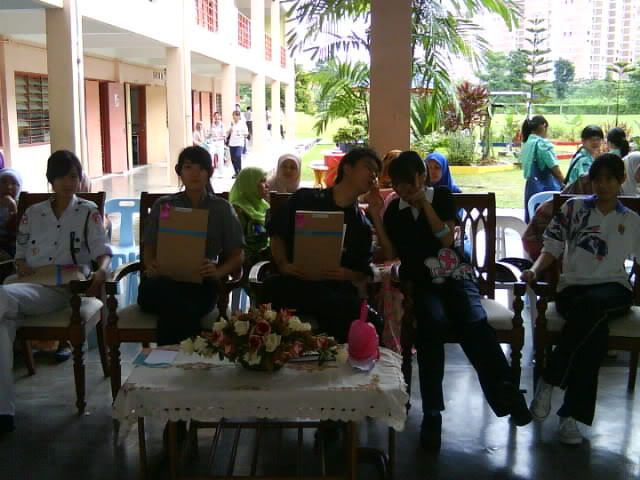 __
some of my favourite seniors.from left Pris, Zhi Wei, Wah Lung, MJ and me! haha.we were trying to act cool but see what's WahLung doing? kissing MJ? LOL.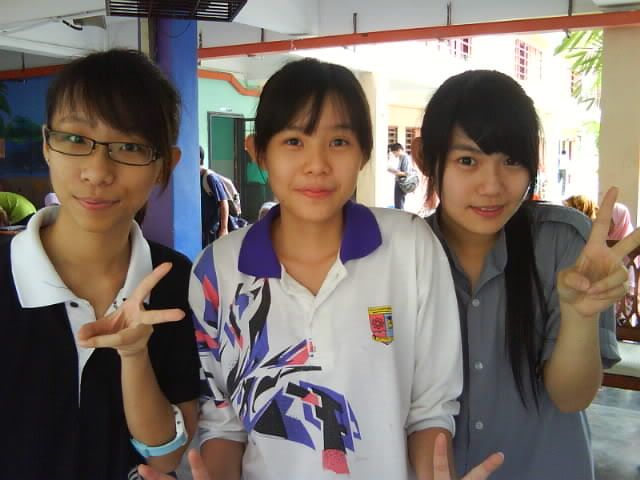 __
yay yay. MJ and Zhi Wei! =D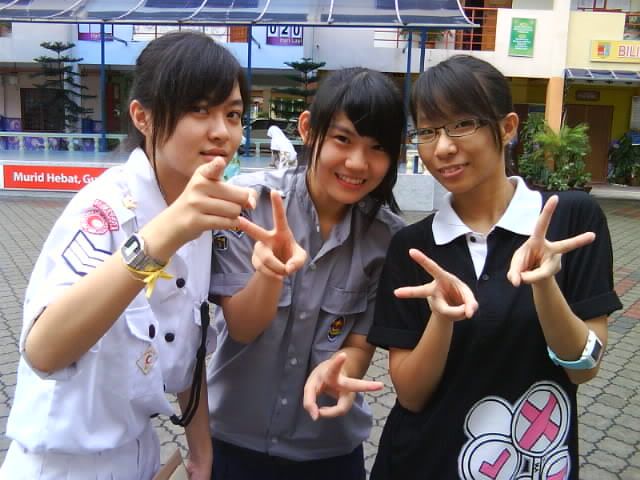 __
among the 5A class seniors. I LOVE THEM[Pris, Zhi Wei, MJ] THE MOST! =D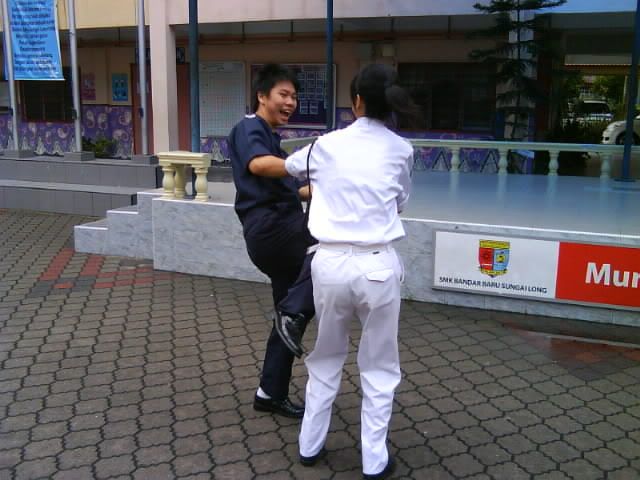 __
__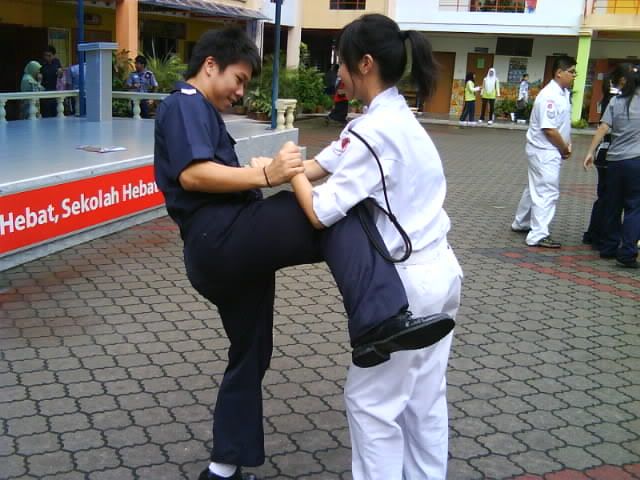 __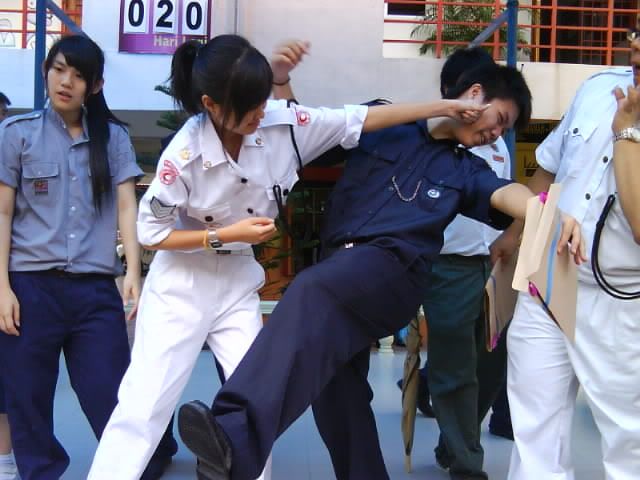 appreciating their time to fight in school.==
and I recorded this.haha.[sorry lar my phone sucks]
I love Pris's eyes in this picture.. haha. [Wai Meng and Melvin]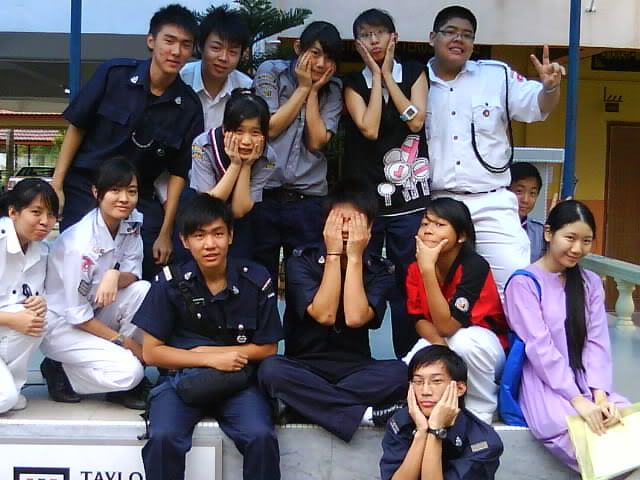 ___
Form 5 seniors group photo! imitating Sin Yin's pose hahaa.
____
haha Wah Lung-kiss-Wai Meng-group photo. ewwww.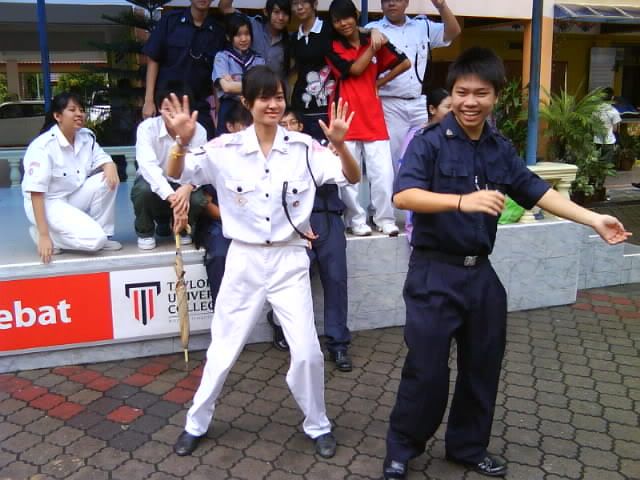 ____
hmm? funny Pris and Wah Lung's smile..... hahaha
Group photo.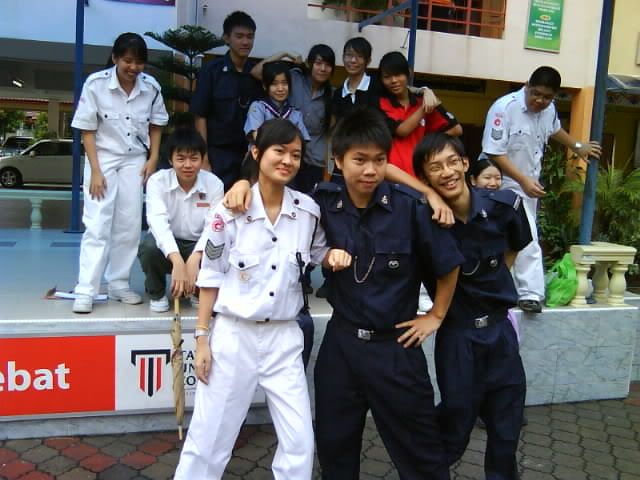 __
____
____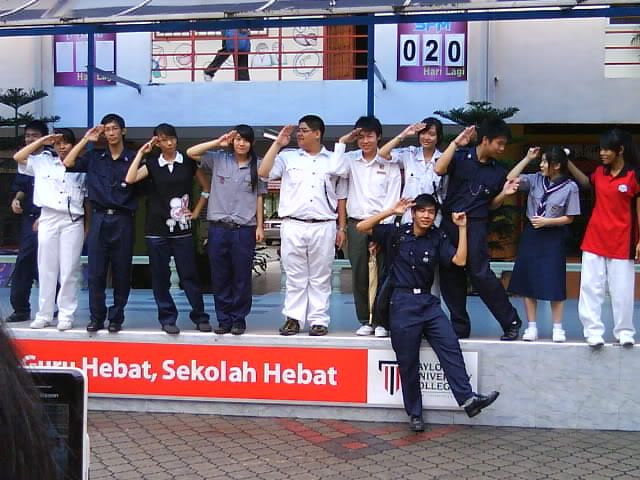 find the difference between these 2 photos. LOL
______
They are ready to jump!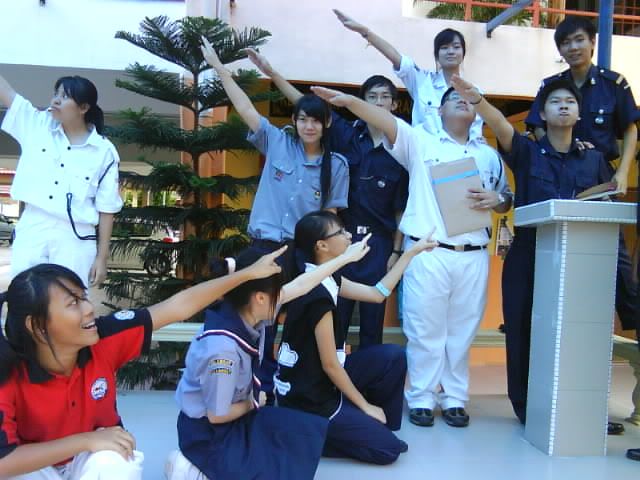 ____
ah ha no idea what are they doing..haha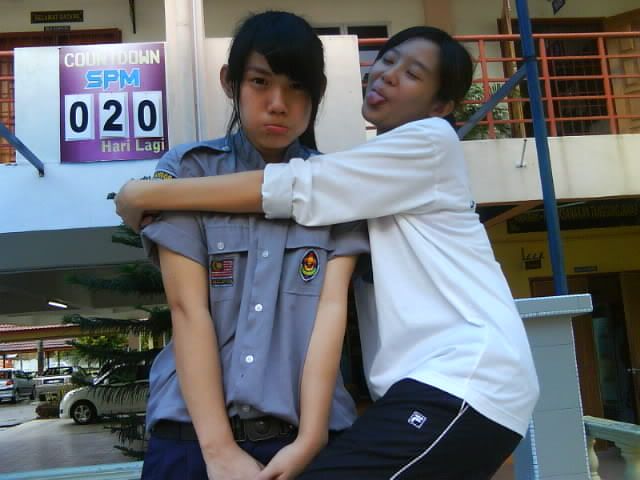 ewwww can't believe I posed like this. sorry lar Zhi Wei heee=X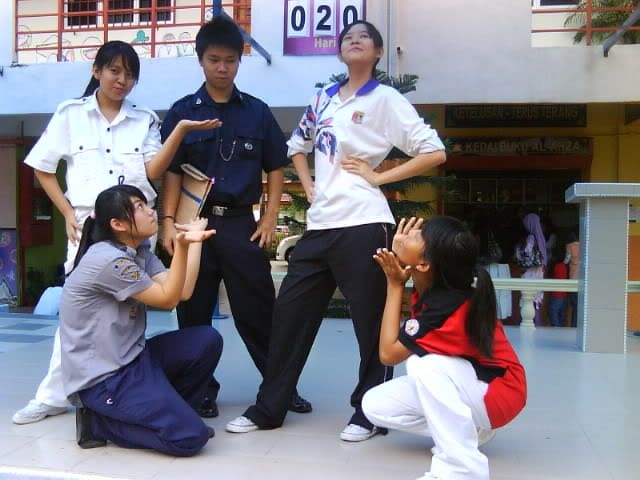 ah ha. me with stupid face la la la~~ =D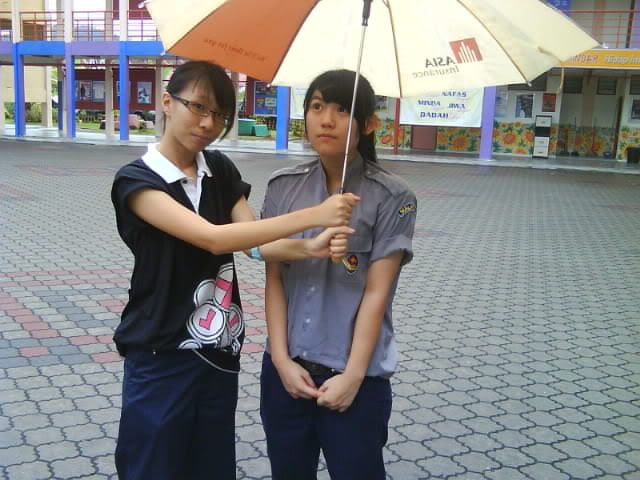 MJ and Zhi Wei =)
Ready to see Melvin's sexy dance?! hahaha. I don't think he realize I've taken these heee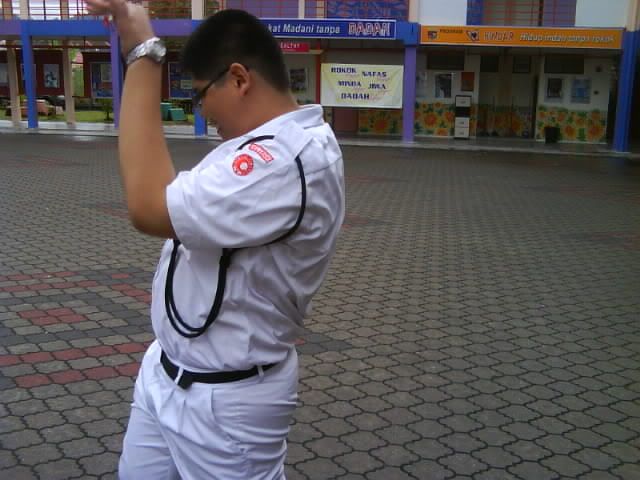 ____
are they trying to act like Kadet Polis and PBSM bully pengakap and Kadet Bomba? LOL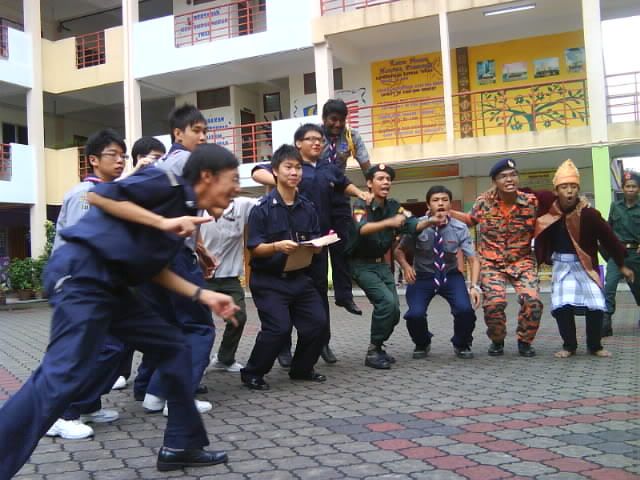 oh. I realized something. its when people are ready jump. they look like 'bang sai' (hokkien) == hahaa
___
JUMP! kinda failed hmm. haaha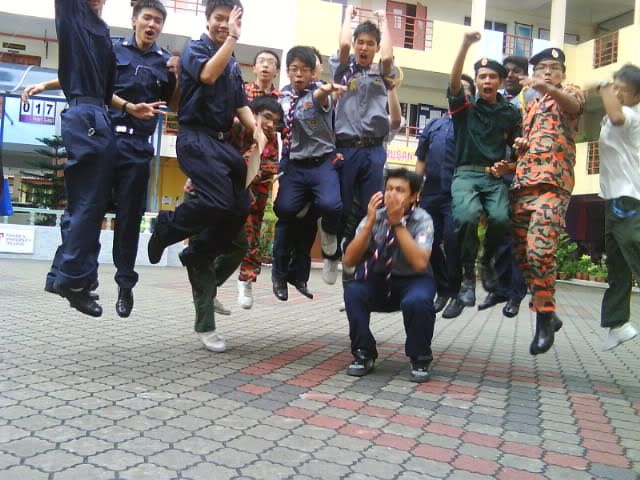 ____
woo another shot! ah only one person failed haha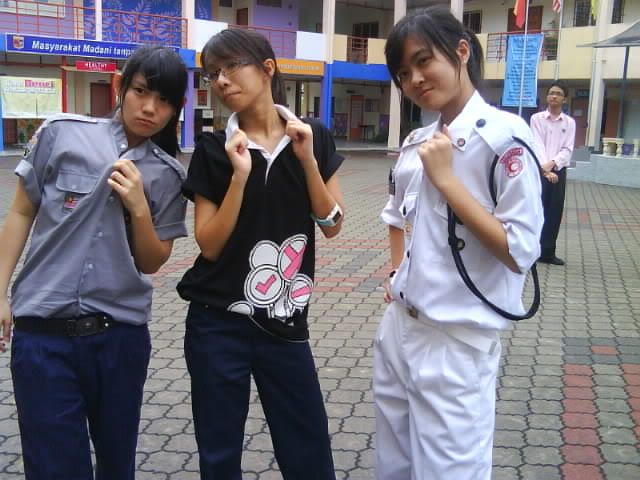 ____
they again =D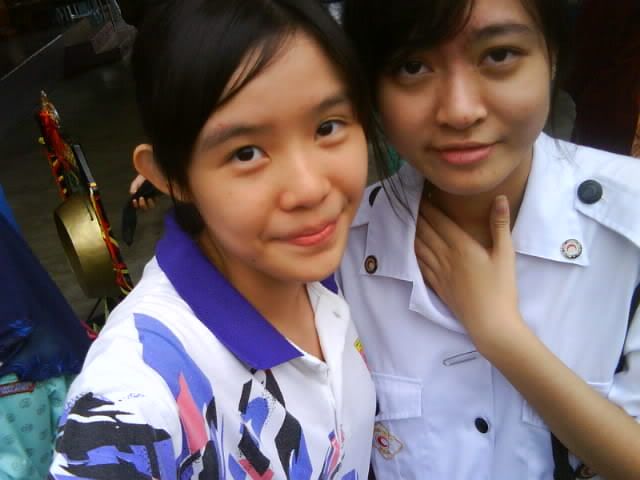 _
me and Pris. ewww I look ugly hmmp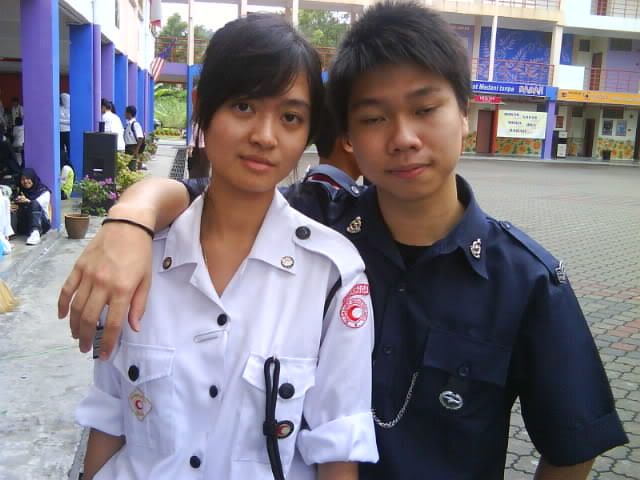 ____
fighting buddies hahaha
___
then... they become latin dance partner? hhaha
___
seeing the photographer taking their photo. then I follow lur. haha Shafiq looks so gay =S
[Hope I won't spoil your auditory canal, eardrum, ossicles, oval window, cochlea or auditory nerve.. hahaha 'cause I shouted just too loudly in these two videos! ]
noob Samson dancing Macarena! ahaha Im still laughing after watching it for 10 times!=S
and this is the real solo one. haha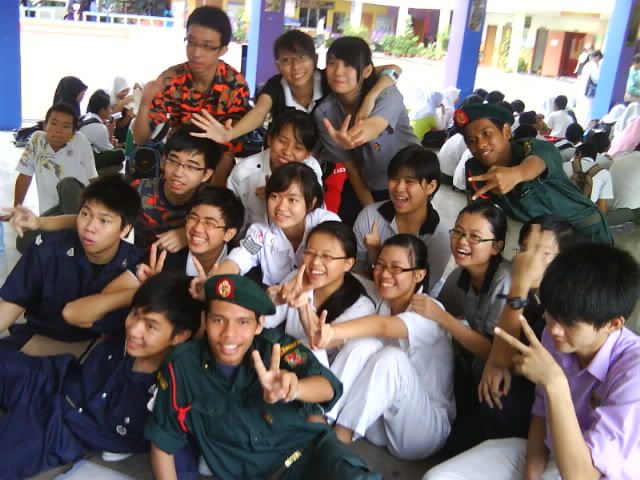 5A group photo! T.T only Zahier posing peace to me hmmp
me and MJ. I think I was holding either MJ's or Wah Lung's prize haha. acting like I got prize lu~ ahaha
___________________
2/11/09. Tuesday.
during exam week!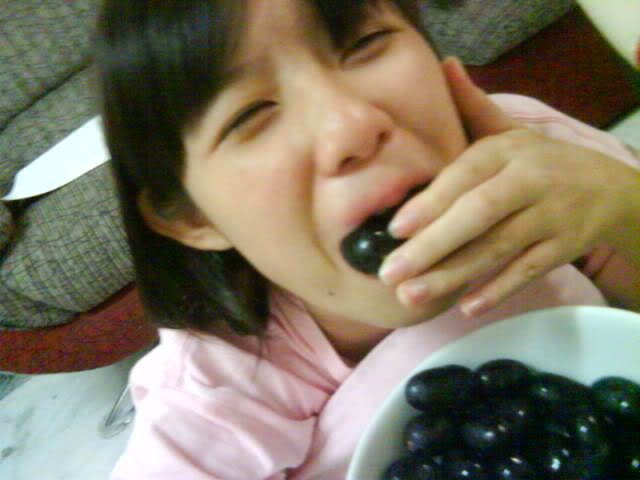 Stress out face when eating grapes. ahhaha.
_____________________________________________________
5/11/09. Thursday.[Rehearsal for Hari BOSS]
I know you wait for this post very long ler! (let me perasan for a while okay.. heee)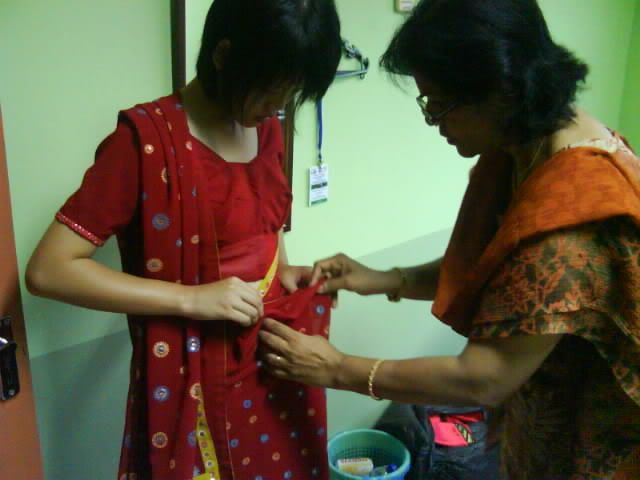 Adeline changing Saree! no naked lar. bla bla Adeline is just too skinny hmmp=\!
me and Denice aka Malaysia Airline ahhaa.
Wan Yi hurt her knee hmm =(
okay. get ready to see LENG LUI-s ! =D
Yee Lin! the 1st model of mine LOL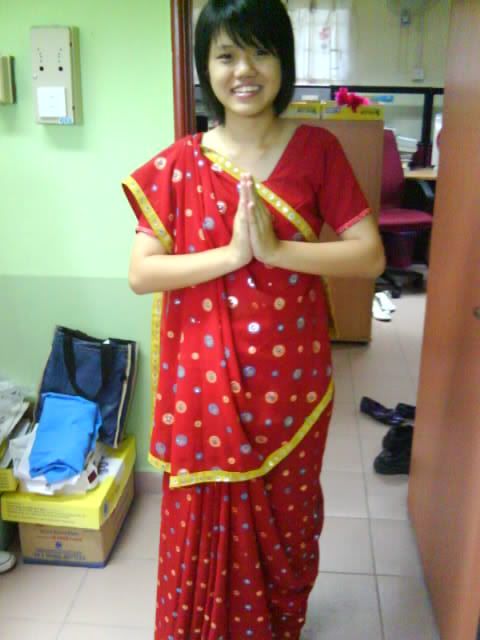 Adeline the second! Saree!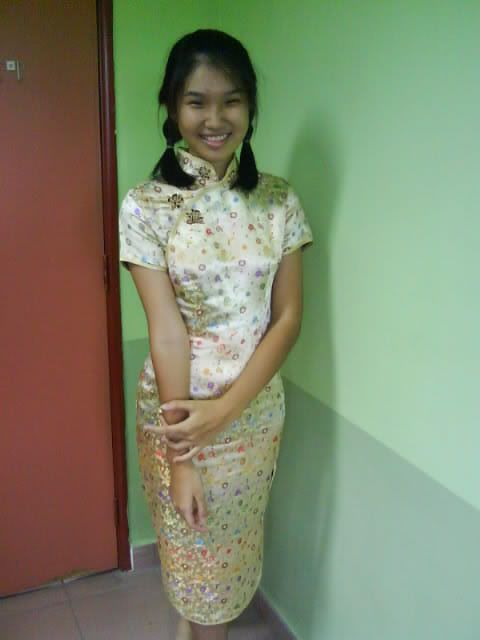 Suki the HOT one! hooo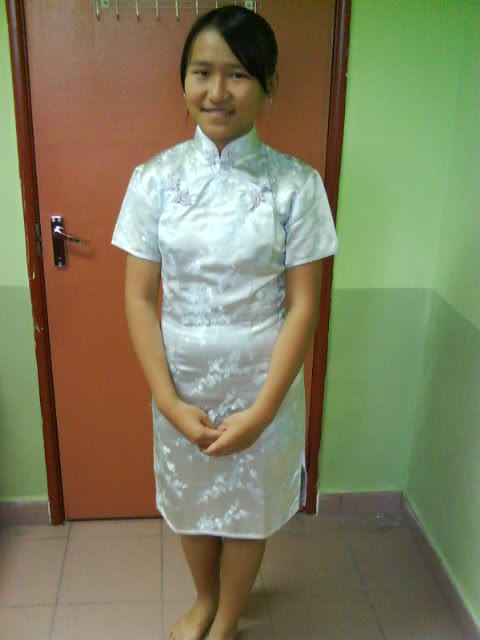 aiks sorry I've forgotten your name again! =(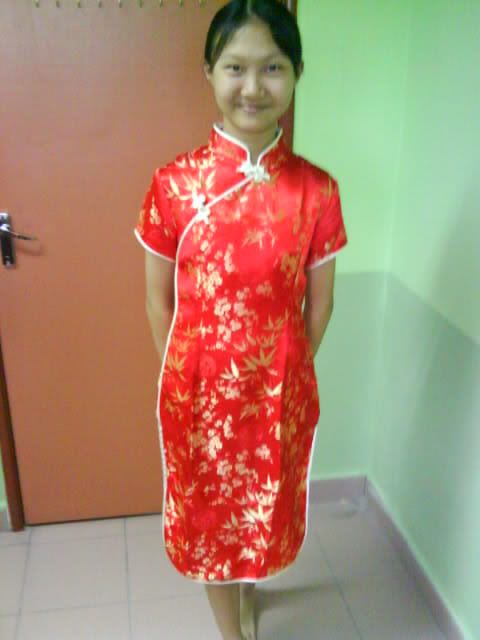 Caris the cute one! =D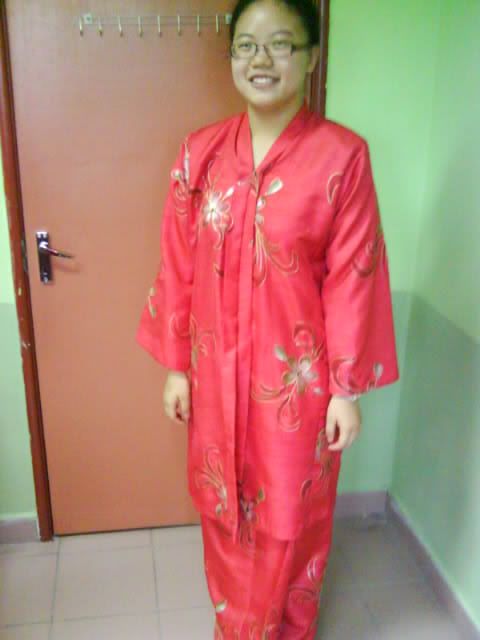 Hui Shen. bla bla no comment ==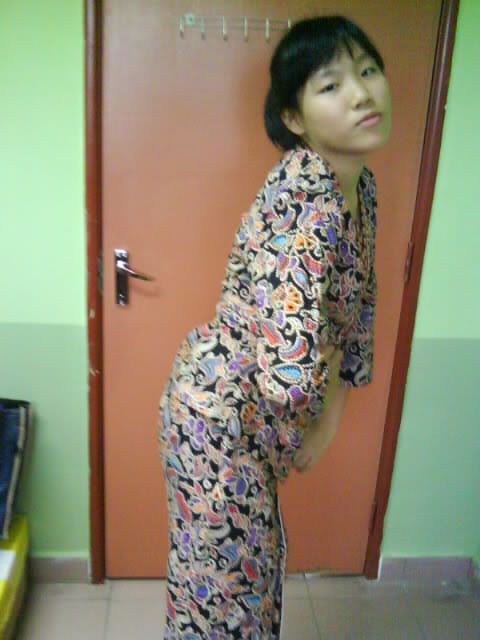 Denice the sexy one! weeeeee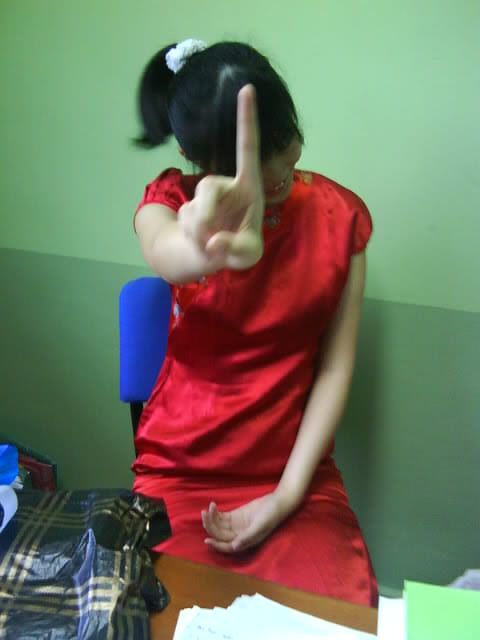 Xin Lin just refused to be my model! T.T
then...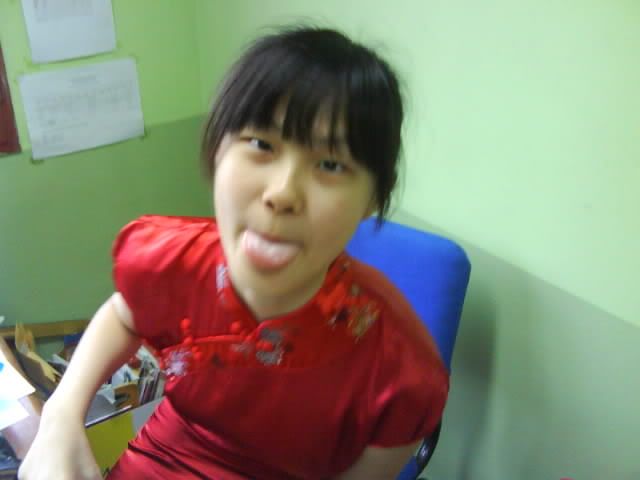 she posed like this! hmmp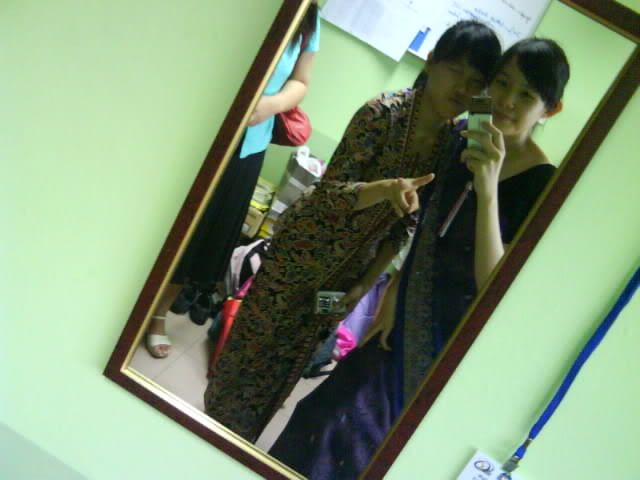 Denice likes to camwhore now! hooo influenced by Vivian I think.. hahah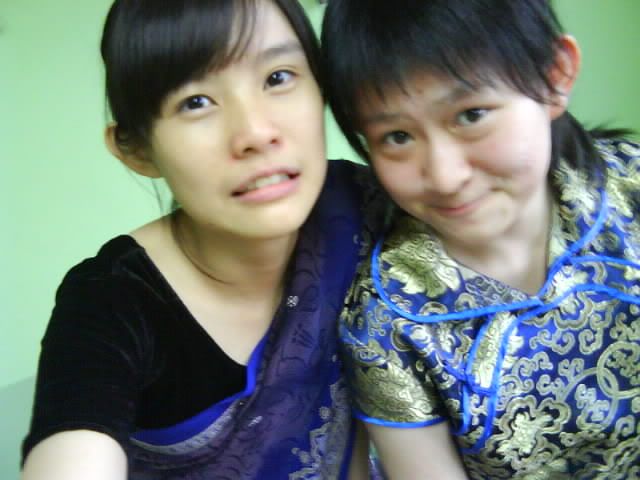 Camwhore with Wanyi heee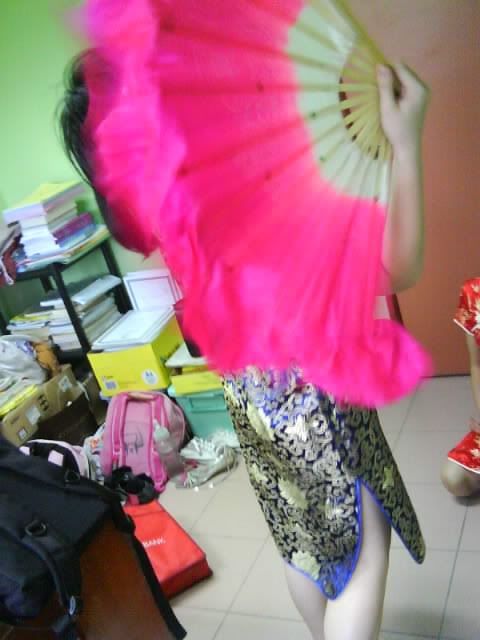 weee Wanyi. Ceong Sam is so nice.. (bleh I didn't say you're nice Yi Yi.. lalalala~ =P)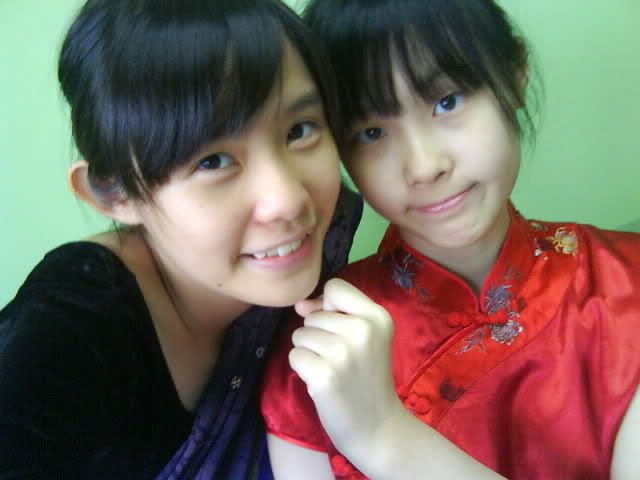 camwhore with Xin Lin too heee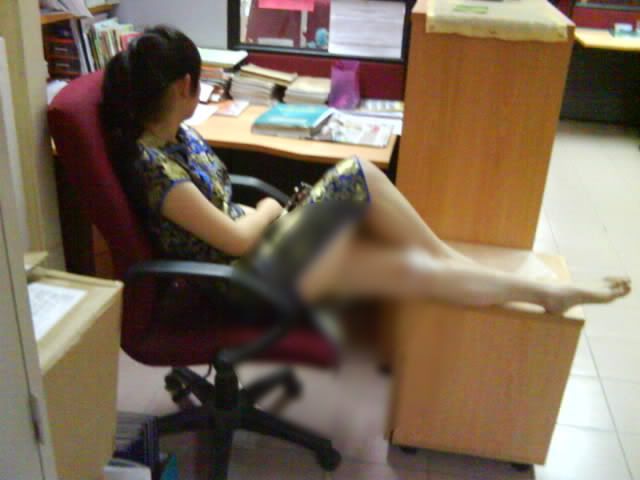 no no no Wanyi didn't ' zao gong '.. hahahah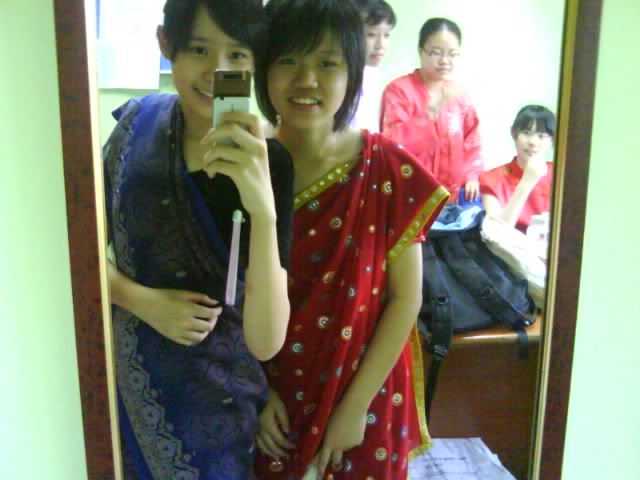 Adeline and I love Saree! =D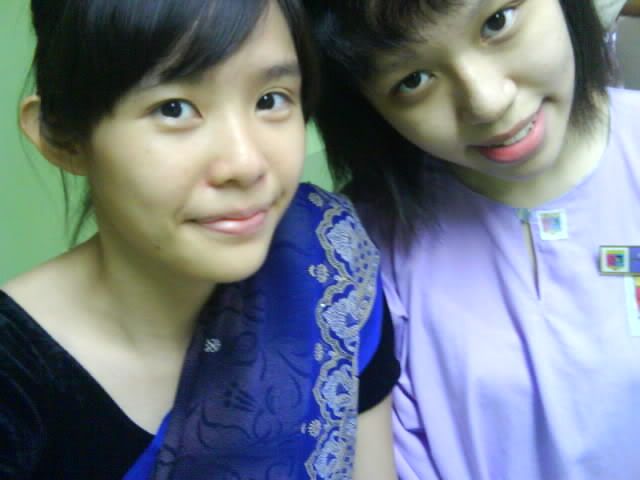 Me and Michelle senior.. heh Michelle don't miss us juniors too much ler.. good luck in your SPM! =)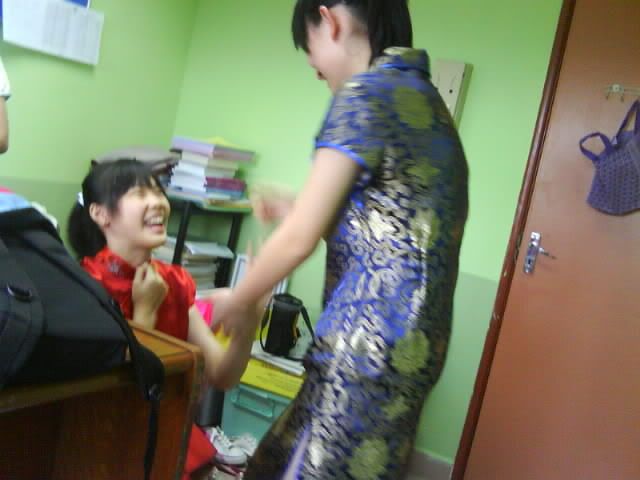 Xin Lin :[will you marry me?]
Wanyi :[tak ada cincin tak mau you hmmp] LOL LOL LOL
after rehearsal still had plenty of time.. so we did some stupid lebih sampat things too =S
act like ghost! =X
Performance by Xin Lin and Denice hahaha
reading newspaper ahahhaha
me and Bao Bao Siew Wern. ahhaha
Yee Ling and Yee Lin. can I have a younger sister for me to bully? *evil smile*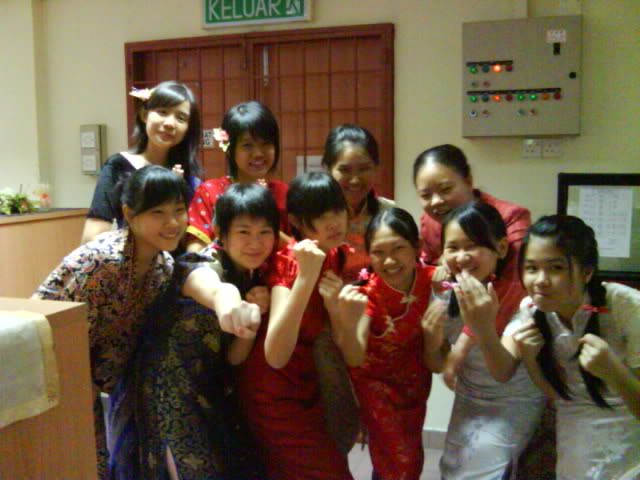 do re mi fa so la ti do group photo heee haha
camwhore hee =)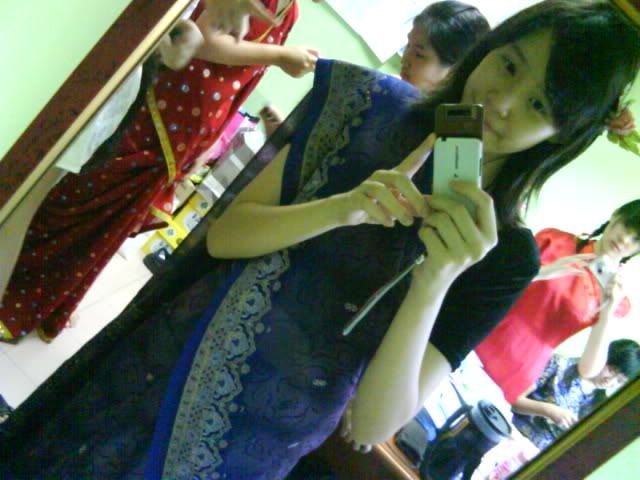 me in Saree =)
::: I was like typing captions for the pictures only in this post==
::::FORM 5 SENIORS GAMBATEH! ALL THE BEST IN YOUR SPM!! =D
:::::haih I ssmi oyu=( but I can't distract you anymore..all I can do is to wish you GOOD LUCK=)