wooo 3 days more exams! then Im free! hahaha captured a lot of photos wei!
I said I will be doing Kian Lim's birthday celebration in last post.. so yeah! let the photos cakap! =)
Hello birthday boy=D your smile is noobie but cute heeehaha
It's a lame birthday celebration=S Kian Lim said. haha
bet you know where we celebrated his birthday. KFC! =S
before joining them at KFC. went home showered after school and makan mom punya mixed rice. Around 2.30pm ba joined them. watched them eat and yeah captured their leng eating poses since I was so free hee =D
Jia Bei said her burger was so special because everyone punya burger ada vegetables but hers tak ada. [Im gonna fail me BI if i keep writing campur english ahhaa]
Birthday boy Kian Lim. haha
and this is V's property hahahah. youknowwhoyouare=P yes i still hate his eyes grrr =S
yay Adeline looked nice that day! 1st time seeing she wore skirt other than school uniform haha. hooo you can actually be sexy Adeline! =D
I created a childish story of derek. LOL
hey! why captured me? Defend!=O *Im shaking head when I type this ==*
you Yee Ling better watch out=S!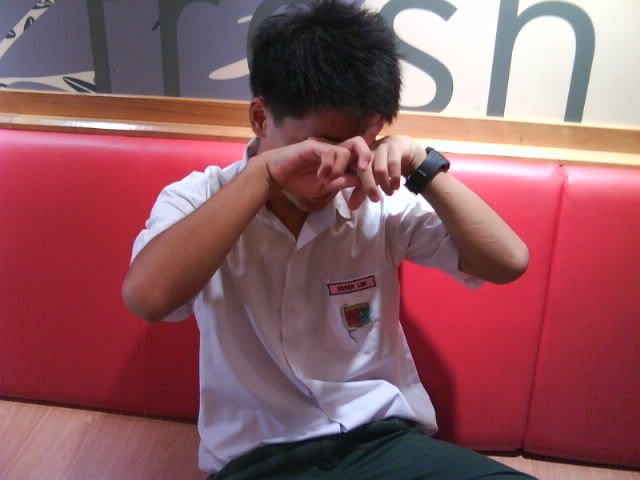 T.T oh no.. I lose to Yee Ling! *tears*
hahahahha Derek cry ya Derek cry ya. damn cute man! =.=
-THE END OF THE STORY- I KNOW IM LAME! hahaha
after KFC. we had no idea what to do to kill our time=( sg long is a boring place hahaha. then someone suggested to go makan cake at secret recipe. ish but the bday boy said. 'im full.' LOL. bday tak ada cake mana boleh~ but stilll gotta listen to bday boy. so we merayau-rayau. VISIT TO SG LONG SHOPLOTS ==
wanyi and me =)
the sun is hot.in the sky.just like a giant spotlight. haha so when we were out from KFC and headed to secret recipe there. i was almost like running to find a shady place to avoid as much sunlight as possible ma =( im not a puteri lilin usually. but the afternoon sunlight make my skin.. ish its painful
after merayau-rayau until sweaty like hell. finally we went to secret recipe. aiks seriously love secret recipe punya..... air cond lu~ LOL birthday boy said wanna eat something 'creamy' so ordered a piece of mango cake for him. then of coz! i ordered a chocolate cheese cake for myself! =D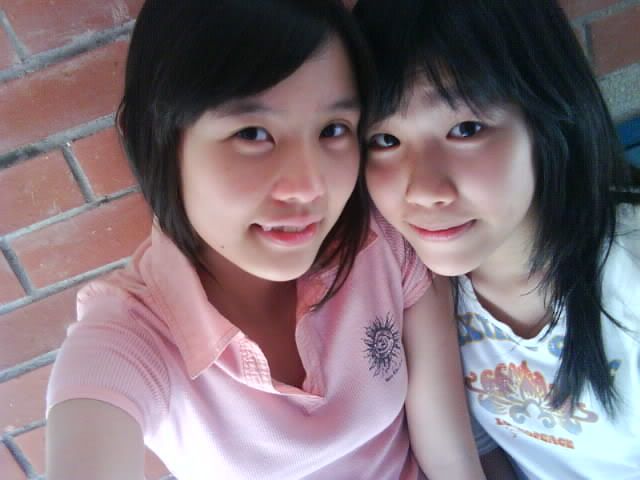 Im not kidding when I say Im Yee Ling Cullen. I SUCK BLOOD heeeee. look at my teeth! LOL
ps: still alot of pictures coming hmm. hari kokurikulum and dont-know-what-event-in-school. Adeline and I wore saree hoooo
Hari Koko.
and dont-know-what-school-event.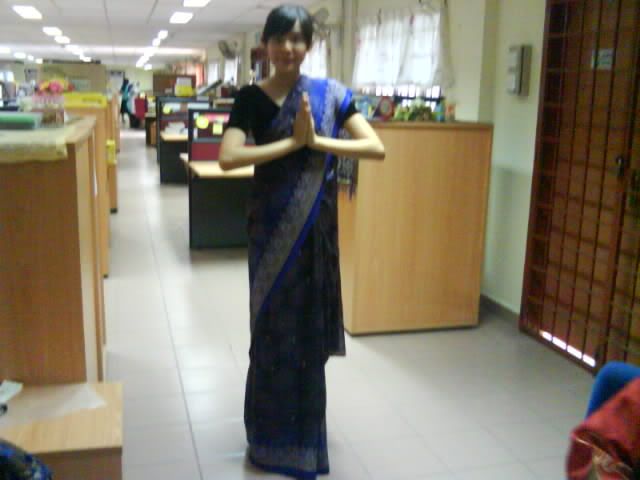 me!
To you.
we are actually worrying about the same thing. WE SCARED BEING HURT=( heh but Im not your true love... however. you're gonna be my 1st love in my life =)