Hola people! :D

Today is 26th of December =( that means after 5 more days, it's 2010! hoho 2 more years to go then we all are gonna die together! :X People, spend your time with your love ones! =) 2-year are really short .
so I wasn't alone during this Christmas eve *smile* Last year was like no Christmas to me, only received some wishes and a call from Wah Lung >< hahaha. not bad lar actually since I'm not a christian =)
____________________________________
well. this year bagus lo! <3 countdown for Christmas with my brother's friends heee =D they should be my favourite seniors too if I enter SMKBBSL one year or more earlier. hahaha.
That night, I went for the modern jazz class at 8.30pm in my aunt's car.Normally there will be around 15++ students attending the class. woah. that night only 6 students including me O.O hahaa. Good! more space to dance around :-D
After the exhausting dancing lesson, went home bathed and got ready to pick up Yong Chien in The Mines or CapitaRetail. hahaaa. After renovation The Mines become very high-class already. I would say its good place for shopping hee.
Yong Chien and I were supposed to spent our Christmas eve with parents. but parents had their own friends too to countdown for Christmas. hahaa. so I was praying very hard that Yong Chien's friends would call him and ask him out. then I could tag along ma =P
Wish came true! hahaaa. don't know Kajun or Clover called him. wooohoo. then my dad aka the driver drove from Serdang back to Sg. Long and dropped us by at Station 1. hahaa. Station 1 was FULL! *mountain people mountain sea! @.@*
While Yong Chien was searching for his friend, I saw a lot of seniors. Like Xin Thong, Kar Xin, some school leavers from 5G and 5F. Form 4 seniors like Wai Yan. booo Yong Chien couldn't see his friends. He gan jeong then called his friend Clover again.
" I still at home wor. " was her reply. hahaha.
Yong Chien won't be so gan jeong if Station 1 wasn't crowded. luckily we still got to get a place =) we ordered ice lemon teas. the waiter who served us was so unfriendly lar *Boss, fire him please=(*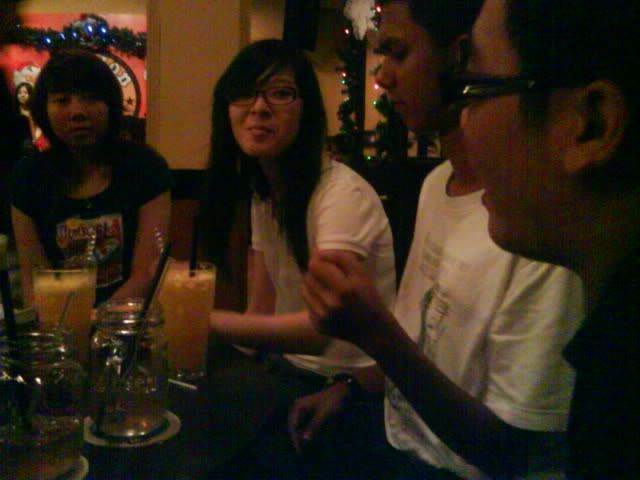 heee then Kajun and Clover arrived first before the rest came. I suppose this was 5B gathering? so.. I was lebih again. hahaa. I always be the ge poh :D they chit chit chat chat. I just listened and laughed! hee.
then Xin Yun called..! too bad she couldn't join because its kinda late already=( anyway. Merry Christmas! =D after countdown was the game session! =D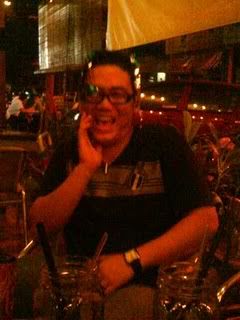 heee we played poker! this is a psychological game hahaa. my first time playing it.
the rule is like this: Players will take their own playing cards and show the numbers to everyone. but the players themselves do not know their own numbers. the one who get the smallest number will be punished.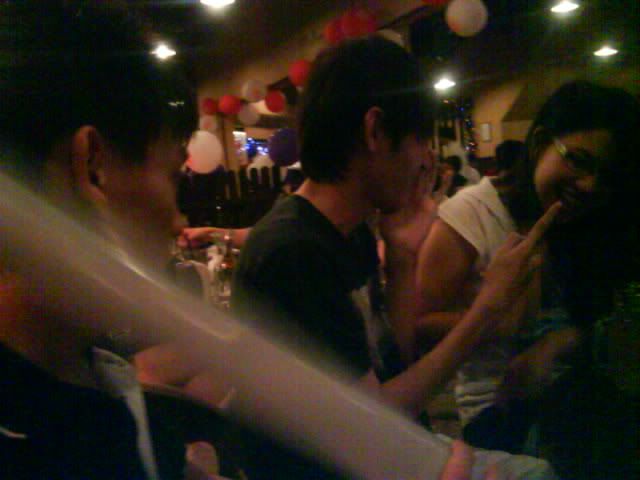 okay I don't think you understand what I typed. haha. let me tell you the first punishment. it was Kajun's idea. he said the one who got the smallest number have to ask phone number from the other table. " good idea! but must ask from opposite sex kay? " Yong Chien said with an evil smile. everyone agreed. hahaha.
The first mangsa was Kajun. he was holding a kinda big number, number 8 I guess. then we started to confuse him. like saying something " are you sure you don't wanna change the card..?" with a serious face. hahahha. everyone looked at Kajun then he started to panick! he changed his card and the number was 2, which was the smallest number! wooohoo loser had to be punished.
Kajun looked really funny when he's trying to ask phone number from the girl sitting nearby which he doesn't know. face blushed and ears red hahaa. after getting the girl's number, he still gotta call her in front of us to prove that was the real number. Embarrassing enough? hahaaa.
another round was slapping face only. hahaa Yong Chien who got the biggest number slapped Desmond who got the smallest one =D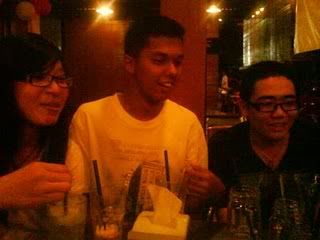 John
third round was the kissing 'punishment'! hahaaa John almost kissed 忆雯 but the girl kept avoiding. see their faces you can't stop laughing! *too bad, no capturing photo or recording allowed hahaa=P*
ps:
It's already the eighth day since I last chatted with you.
pss: is Jia Bei coming to yamcha with us next Tuesday? heee I miss you all girls =)
Happy New Year!